Jesus said, "Let the little children come to me..."
The Oak Park Child Care Center is dedicated to providing a warm, loving, Christ-centered environment for each child to develop socially, spiritually and academically. Our goal is to strive daily toward "Excellence for God!" through direction based in Christian principles.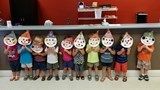 The divine inspiration of only the Bible, without error in its entirety;
The one Triune God, eternally existent in the Father, Son and Holy Spirit, who created man by a direct immediate act;
The pre-existence, incarnation, virgin birth, sinless life, miracles, substitutionary death, bodily resurrection, ascension to heaven, and the second coming of the Lord Jesus Christ, the only Son of God;
The fall of man, the need of regeneration by the operation of the Holy Spirit on the basis of grace alone, and the resurrection of all to life or damnation;
The spiritual relationship of all believers in the Lord Jesus Christ, living a life of righteous works, separated from the world, witnessing of His saving grace through the ministry of the Holy Spirit.
Monday-Friday // 6:30AM-6:00PM
For more information about tuition fees and activities, fill out the form below!